Neighbors: Pakistan
Arrival
By Air
While Islamabad is the capital of the country, it is a newly built city with office buildings mostly, and many international flights land not here but in Karachi. Therefore, it would be a mistake to try to buy a ticket to Islamabad directly since it is expensive. Fly to Karachi. As for internal connections, you often can buy a single ticket from your home to Karachi and then to the required destination within Pakistan. However, internal flights make sense only if you have no time. If you plan to look around Pakistan, buses and trains are better and way cheaper. Getting to Peshawar from Karachi by land you have a chance to see Lahore and Islamabad. The only remaining interesting destination would be Quetta although it is not that interesting and is far enough to skip it altogether.
By Land
The Iranian border crossing is in Taftan on the way from Zahedan to Quetta. There is a direct train on this route, and it takes 30 hours. It is cheaper to get from Zahedan to Taftan by a bus in two hours, then cross the border on foot and take another bus to Quetta, which takes 14 hours.
Leaving Quetta by train is not easy since the only route from there goes to Karachi, and train tickets are sold out a few days in advance. Planes are expensive, about 100 dollars. Buses are fine, and you can buy a ticket on the day of departure, but it takes 24 hours to get to Islamabad by bus.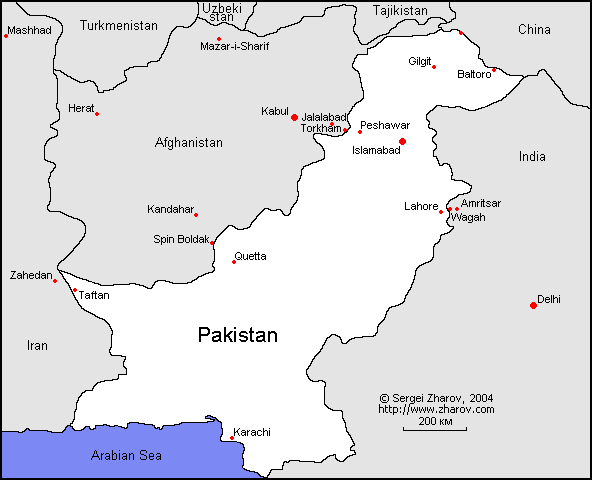 There is only one border crossing with India, in Wagah, on the route from Amritsar to Lahore. It is usually absolutely empty since the locals are not allowed to cross it in any direction unless they go to a funeral, and foreigners read newspapers too much and do not go to Pakistan in huge numbers now. More exactly, the situation with this border post changes with the political situation, but foreigners are usually allowed to cross here unless there is a direct threat of a nuclear war between India and Pakistan, which happens once in a while.
Many trains come to Amritsar from many Indian cities, so it is easy to get there. To the border at Wagah you can then take a motorickshaw — three dollars and an hour and a half. The crossing opens at 10 a.m. Indian time. There is a currency exchange office on the Indian side where you can change your Indian rupees to the Pakistani ones. But the rate is better on the Pakistani side where there is a bank. However, if the bank is closed, you are stuck with no money to get to Lahore, so change at least something in India. On the Pakistani side, near the bank, there is a tourist information office where you can get free maps of major cities. The maps clearly say they are free, so do not let people sell them to you.
Local buses go to Lahore for 20 cents; it takes about an hour. There is a separate compartment for women at the front accessed through the front door. A bus itself is divided into two parts by a metal wall. It is useful to make a local friend on a bus since it is not clear where exactly you should exit in Lahore.
There is a direct bus from Amritsar to Lahore for 17 dollars, but this is too expensive and will not survive any political tensions between the two countries.
It is possible to get to Pakistan from China, but the route goes through the mountains and is closed in winter.
Dangers
Pakistan has a complicated internal situation, but this concerns you just a little. By the way, there has been a military coup there, and the country is controlled by the army, but it is not that visible.
Cops are highly corrupted — a problem number one. As a result, the criminals get bolder and bolder — a problem number two. Just as in Afghanistan, politically active citizens have no democratic means of expressing their disagreement with people in power, so they kill them. That is not a problem by itself since you are not a person in power, but you may become an unwanted collateral damage.
Let us talk about these problems in the opposite order.
I have never heard about any tourists having any problem with terrorists. Other foreigners do have them, yes, especially when they are involved into paramilitary activities. I have traveled alone for three weeks through the whole country and nobody has even given me an evil eye, much less tried to assassinate me. Perhaps, a general advice in this matter can be that you should stay in the cities and make your own plans rather than accept persistent invitations by little known people to visit some obscure place. But that is a sensible way to behave in any country, not only Pakistan.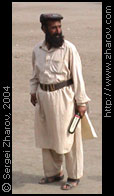 An appropriately dressed Pakistani guard in Islamabad
Criminals target foreigners in three different ways. The first one is to pretend to be a policeman and demand to see your passport and money. Do not tell them upfront to get lost since there are many kinds of the police in the country, and some of them are plain clothed. Foreigners are often stopped and checked on the way from Peshawar because it is so easy to buy cheap drugs in large quantities there. Therefore, if there is a raid on a train or a bus and you are asked to show papers and your luggage in the presence of other passengers, this is normal. But if you are stopped on the street, show a photocopy of your passport or say that you have left it in your hotel or that it is in some embassy getting another visa.
At the first attempt to see your money for whatever reason stop cooperating and offer to go to the police station. Do not go there through a side street or in a "police" car. If they mention money, this is practically 100% guaranteed to be a scam.
The second scheme is setting you up in your hotel. The staff plants drug or guns in your luggage, and then you pay through the nose to the police to leave you alone. There is no way to prevent this except not to stay in unknown places, especially in Lahore. Whether a corrupted or an honest policeman arrests you, whether with your drugs and guns or not, you are not getting out without spending lots of money. Also, do not go to the Smugglers' Bazaar in Peshawar and buy drugs or guns there. More details about Lahore and Peshawar later.
The third scheme is stealing from your luggage in a hotel. The staff goes through your backpack when you are out and takes everything of value. This happens in hotels of any type. The only countermeasure is to lock your luggage and not leave anything you would really miss in it.
Cops in Pakistan are absolutely corrupted, and this is the number one problem. For starters, realize that if anything of the listed above happens to you, there is no point in going to the police. They will not help. Moreover, they pick up on foreigners hoping to get some money from them.
The best way to deal with the police when you are accused of something is to offer them to go to the police station. I have always tried this, and it always worked. They just leave you alone because whether you have really committed a violation or not, they personally are not getting any money from it now. If you really have friends in the Pakistani military, you can threaten to call them, too. The military is the only way to solve problems if you have them. Military friends are very helpful; acquire them when you can.
Life in Brief
One big plus of Pakistan is that the military here operates in English since the times of Great Britain's presence in the region. This makes interacting with the locals so much easier. However, their vocabulary has stopped at the level of August 14, 1947, and they talk like in the old movies. "Old chap", "missus"… But that is not a big problem.
While religion and state are separated in Pakistan, Islam influences everyday life a lot. Women should cover their heads. This concerns foreign women too if they do not want to look like sluts. And in general, the situation with the equality of sexes is not ideal here. Separate compartments for men and women in buses have been already mentioned. In shared taxis or minibuses a man will not take a seat next to an unknown woman either. Sometimes it means that a single female tourist has to pay for two seats if there is no other woman to sit next to her. Of course, foreigners are treated with different criteria in terms of social behavior, but they still need to know about the local rules and try to follow them.
Shorts and sleeveless shirts are not acceptable for any gender. Women should consider buying shalwar qamiz — the local dress, pants and a long shirt. They look very nice, by the way, and come in many colors. In any case, do not cross the border without a head scarf: you can wear Western clothes in the cities but should cover your head everywhere. Men can wear anything except shorts and sleeveless shirts. Local men wear pants and shirts or a male version of shalwar qamiz, a long shirt with loose pants.
A t-shirt is acceptable to wear but will look slightly strange. You will probably be refused entry to mosques and good restaurants.
The country has lots of local and Afghan Pushtuns. They mostly dislike Afghanistan and characterize it as a country of violent, uneducated people. You should ignore this information.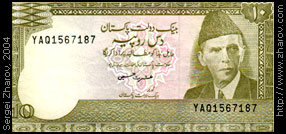 Ten Pakistani rupees
Combining both Islamic and Pushtun culture, people are often overly hospitable on the surface. But this does not go far in reality in Pakistan. If they do not want to do something for a guest, they plainly will not, inventing reasons and obstacles. Therefore, if you are promised something and then day after day nothing happens, just leave the man alone and do not count on his help.
Generally speaking, one gets the impression that all these wars with India, military coups, and troubles with Afghanistan took their toll and many people have broken on the inside and began rotting. Keep your guard up. Many people I have met were very nice and sincerely friendly. Many were liars and thieves.
Foreigners can buy alcohol, but they need to get a permit for that. Getting it makes sense only if you plan to stay in the same city for a long time and drink a lot. Otherwise it is easier to go to some fancy hotel, show your passport, and get a drink in a bar.
Currency can be changed in banks or exchange offices. In some shops it is possible too, but it is better not to risk. In Islamabad you can get a cash advance from your credit card in local rupees. It is a good deal since a withdrawal is posted to your card in your native currency at your bank's rate, which will always be better than anywhere in exchange points in Pakistan.
Foreigners get 25% discount on train tickets, and students get another 25%, but all this works for specific trains only, and these trains are not the fastest or the most popular. You have to come to a special office, which is not at a station itself but somewhere in a railway's office building. There you get a discount permit for a specific destination. I have got three of them and used none — the trains they cover suck, being too slow. With tickets being cheap anyway, it is pointless to try to save a few dollars and lose so much time.
It is not easy to buy a train ticket. Different booths sell tickets to different destinations, and all signs are in Urdu, so it is hard to find the right one. Lines are long. The only exception is the new Karachi–Lahore express that has separate, clearly marked ticket booths.
In a train without air-conditioning you will choke to death, and with air-conditioning you will freeze to death. This is the choice. There are a few classes of train cars. The best value is air-con 1st class. It has open compartments with bare bunks. You do not get a bed set or even a mattress there. Air-con 2nd class has sitting places only. There are special cars for women, but they are not required to ride there.
Tickets are sold out pretty fast. It is hard to buy a ticket for today or tomorrow. Also, train makes sense on the routes from Karachi to Quetta and Lahore only. Between all other cities it is easier to take a bus. On these two routes buses run too, of course, but they take about 24 hours, and that is too taxing.
Internet cafes can be found in most cities. They charge about 50 cents for an hour. Food costs about a dollar for a dinner with meat, rice, bread, tea.
On average you will spend about 11 dollars per day for accommodations, food, and intercity transportation. It is realistic to spend $3.50 per day for a normal hotel and another $2.50 for good food.
Briefly About Cities
If you come or leave by train, there is a triangle-shaped block near the train station formed by Allama Iqbal, McLeod, and Brandreth streets. Along the whole perimeter of this triangle there are more or less safe hotels of tolerable quality. In Hotel Asia three dollars get you a room with a shower but no window. Parkway, Shabistan and Cliffton hotels are also recommended by guidebooks. Browse through all four and pick the one you like.
Never let people in Lahore recommend a hotel to you or to bring you to one of the mentioned above. In the first case you can end up in a place where they set you up. In the second case a hotel will charge you 25–50% more than it would otherwise, to cover the commission of the guy who brought you. This area near the station is full of criminal-minded hotels. If you plan to stay somewhere else in the city, have a list of places recommended by someone outside of Pakistan.
This triangle also has many restaurants and food stores. It is better to eat in places that are full of the locals — they know where food is good.
The city has an old fort, an old city center, and a museum. All this can be visited in two days. The so-called Mall is a part of Shahrah-i-Quaid-i-Azam street where there are a lot of shops. The bookstores there have a good selection of interesting items, including English translations of Koran. There is a post office at the end of Mall, and the museum is farther in the same direction.
Train tickets are sold not at the station but 2 km farther south along Bin Badis street that starts at the triangle. A bus to Islamabad takes five hours and three dollars; to Peshawar — eight hours; to Karachi — 24 hours. It is better to take an express train to Karachi — 12 hours, 25 dollars. Physically, there is only one train on this route, so it runs every other day in each direction. Discounts for foreigners and students do not apply here. The cars are air-conditioned and have six bunks in a compartment with a door. Tickets are cheaper for the chairs outside the compartments, but you will have to sleep sitting then.
I have not seen internet cafes in Lahore.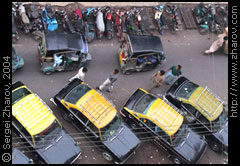 Taxis in Karachi
Karachi is located on the shore of the Arabian Sea. For whatever reason, the city is full of cross-dressers. An internet cafe is in the central post office. It is hard to find a cheap hotel here; they all are stuffed. In Karachi Hotel between Iraq and Liaquat streets you can get a double room with a shower and a balcony for five dollars, but the staff steals here.
There is nothing special to see in the city, but roaming the streets is interesting. There are two train stations. The Lahore express leaves from the one that is in the military cantonment, but tickets are sold at the other one. An air-con 1st class ticket to Quetta costs 14 dollars, and it takes 24 hours to get there.
Quetta is very different from other Pakistan cities because there is a desert climate here. All roads to Quetta go through the Bolan Pass — not an outstanding view but a nice one. In the city itself you will see much beyond the main street. There was a nice lake outside Quetta, but it has dried up. The locals come there anyway and picnic around a giant hole in the ground.
There are many Afghan Pushtuns and related things here. There is a consulate of Afghanistan in Quetta. You can go to Kandahar from here, although the road to the border is considered to be dangerous in terms of banditry, and I believe you are required to get a permit and an armed guard to go there, just as it is in Peshawar.
Leaving Quetta is hard because train tickets are sold out quickly, and trains go to Karachi only. But a bus ticket to Islamabad can be bought even at the day of departure. It takes 24 hours and 14 dollars. A hard trip, even with air-conditioning. Planes to Islamabad are about 100 dollars.
Deluxe and Marina hotels on Jinnah street within 500 meters from the train station offer rooms for three dollars. Food can be ordered. An internet cafe is right near Deluxe.
This is actually two different cities, Rawalpindi and Islamabad. The first one is old and has been there forever. The other one has been built on an empty piece of land in 1961. They are separated by 15 km of land more or less covered by buildings. There is nothing interesting in Rawalpindi, but hotels are cheap here, and you can easily get to Islamabad by local minibuses. Islamabad has nothing interesting either, but it has all the embassies, shops, banks, etc.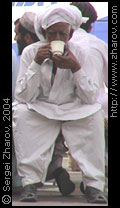 An appropriately dressed grandpa on the road from Quetta to Islamabad
The main problem in Islamabad is the distances. The city has been built in giant square blocks, or sectors, 2×2 km. And even within them not much is actually built, most of the space there is a forest or a field. In the sector G–7, where the cheap hotels are, the only useful things are internet cafes and food stores. For anything else you have to walk two or more kilometers to another sector. Any official business — four or more kilometers. There are minibuses running between the sectors, but their system is hard to understand. A taxi is about a dollar per sector.
Generally speaking, it is better to stay in Islamabad. If you come here from Rawalpindi during the day only, you still face the same problem of distances. If you stay here, you can walk at least to some places if you like walking.
Cheap hotels are located in the center of the sector G–7, which is called Sitara Markaz. Al Hujurat for five dollars is a rotten and overpriced place. Simara is better; for seven dollars you get a nice room with a satellite TV. It also has a good restaurant. An internet cafe is on the northern side of Sitara Markaz.
Sectors F–7 and F–6 have lots of shops, including bookstores. Books are about two times cheaper than they are in the West, and mainly because they are all pirated. Many books are in English. Buy something big, to read in Afghanistan in the evenings.
The central street, Fazal-ul-Haq, also has a few bookstores. The currency exchange offices are on the same street in the sector F–6. Citibank in the sector G–8 lets you withdraw cash from your credit card. There is another branch of it in the diplomatic enclave. The Afghan embassy is on the 90th street in the sector G–6. The post office is in the center of that sector.
In the diplomatic enclave you may be interested in the Iranian embassy and in your own if you need a letter of introduction. Cars can not enter the enclave. You have to exit at one of the few entrances to the enclave and continue on foot from there. There is a local bus running within it, but its route is not obvious. Your passport will be checked at all check points, which are plenty. It is best to directly approach the guards on the way and show the papers yourself — you will not avoid that anyway.
Buses to Peshawar leave from a station in the center of the sector G–9. Three hours, $1.20. The train station is in Rawalpindi.
next: Peshawar
more: Other things
this page: http://www.zharov.com/afghan/pakistan.html
copyright: © Sergei Zharov, text, photos, maps, design, code, 2004–2022
feedback: sergei@zharov.com