Technology: Keeping in Touch
Postal Service
Not everything is ideal with postal services in Afghanistan yet.
In Jalalabad there is no post office although there is a genuine Soviet post box at the entrance to Hotel Spinghar. In Kabul things are the best. The central post office sells stamps and accepts packages. In Mazar-i-Sharif it works too. In Herat there should be a post office, but all attempts to find it lead to a private company that sends mail to Pakistan with a courier and posts it from there. They charge a lot, naturally. In Kandahar there is a working post office.
Stamps for postcards cost about 50 cents. The price is slightly different for Europe and the US. Postcards arrive reliably, although some take two weeks and some — two months.
The bitch who handled stamps in the Kabul post office has been always stealing money from me. Watch her.
Express Mail
FedEx accepts and delivers packages through its partner in Kabul at Karte 3, Khai Street, North of Ministry of Commerce, House 326, +93–020–2500525, +93–070–286028, +93–070–286029, in Herat at Bank-e-Khoon Road, Haji Ayoub Square, Kajj Street, +93–040–220301, +93–070–294462, and in Kandahar at Noor Jahan Hotel, Shaheedan Square, Shahr-e-Naw Street, +93–070–303257. The latest list of their locations is available at http://www.fedex.com/af/contact/.
DHL has offices at Bagram airbase near Kabul and Kandahar airbase at the former international airport of Kandahar. As you can guess from these addresses, it is not likely you will be going there for a drop-off. They may, however, deliver incoming packages to Kabul and Kandahar addresses.
Internet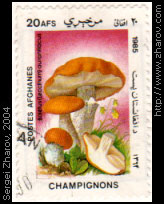 An old Afghan stamp that is still in use
Public internet in Afghanistan develops very fast these days. There are at least two places in Kabul where you can use it: in the basement of Intercontinental Hotel and in Mustafa Hotel. A satellite uplink in Intercontinental costs five dollars per hour and three for 30 minutes. Mustafa — four dollars per hour. Intercontinental has about a dozen of good computers, but the connection speed is not great when it is shared between them. The establishment targets hotel guests: journalists and UN/NGO people. They even get one free hour per day. Sometimes you have to wait in line, which is not that pleasant with these people.
One PC has a CD-Writer, but it did not work at the time.
Besides that, NGO offices may have internet access, but it is for their own use, and they have to dial a phone number in Pakistan, thus it is expensive. You can ask them for a favor if they owe you one, though. Somewhere away from Kabul and in dire need this is the variant to try.
Phone
This is easy. All major cities have phone centers where you can make an international call. It is about 50 cents per minute to Europe and the US. In government-owned centers you write a phone number on a piece of paper, and they connect you within a few minutes. In private places they just direct dial your number on their personal cell phone and time you. There can be small waiting lines in both types of places.
You can buy a SIM card for your GSM phone — or even the phone itself — in Intercontinental Hotel or in Kabul Airport. Local calls are 10 cents per minute, and international calls are about 50 cents per minute.
next: Souvenirs
more: Other things
this page: http://www.zharov.com/afghan/mail.html
copyright: © Sergei Zharov, text, photos, maps, design, code, 2004–2022
feedback: sergei@zharov.com