Neighbors: Iran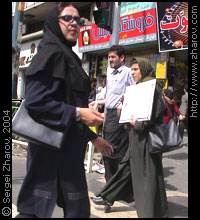 An Iranian girl — they all dress like this
People are completely apathetic, and they make it your problem. Practically nobody speaks English because as the language of the enemy it is not taught. Prices went up a few times recently, and you have to pay much more for hotel and transportation than even the 2002 travel guides say. Another problem is that prices are often quoted in tomans, which are 10 rials, and that is confusing.
In Mashhad and Tehran you can find a hotel for about 10 dollars per room. Grocery stores and restaurants have a good choice of food. Intercity buses are good, but you will go nuts before you find the right ticket office at a bus station.
Hard currency can be changed in banks with no restrictions. There is a black market, but the rates are practically same. American economical embargo makes it impossible to use Visa, American Express, or Western Union. MasterCard works but can be disconnected if Iran gets into political problems with Europe.
Street crime practically does not exist. Just as Syria is, Iran is the safest country in the region. Perhaps, because all thieves have already lost their hands and feet. By the way, sex with people married not to you is punished by stoning to death, so abstain from it. Drugs — death penalty. Stealing things — amputation of one hand and one feet.
Women should dress in a way when only face and hands are open. There always are activists on the streets who insist on you covering up. Men in shorts would not be understood in any country in this region, but in Iran that can also get you beaten up.
There is an Afghan embassy in Tehran and a consulate in Mashhad. A bus from Mashhad to the Afghan border at Islam Qala takes four hours. By a taxi it takes three hours and 20 dollars. Or you can take a bus to Taybad first, which is close to Islam Qala.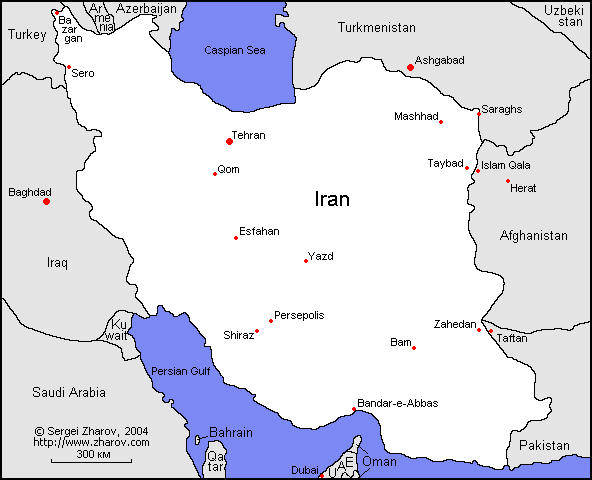 Internet cafes charge about a dollar per hour. Many like to overcharge foreigners, so it is useful to understand Arabic digits and inspect the local prices on the walls. Do not pay more than the locals do; go somewhere else if they insist on overcharging you.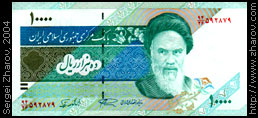 Ten thousand Iranian rials. $1.25. With ayatollah Khomeini.
To Pakistan you can easily get through Zahedan and Taftan. Although there are direct buses from Zahedan to Quetta, it is faster to get to and from the border on your own.
There are ferries to Arabian Peninsula from Bandar-e-Abbas through Persian Gulf, and there may be ferries to Baku in Azerbaijan through the Caspian Sea.
Most likely, borders with Iraq and Armenia will be closed for tourists.
To Turkmenistan one can cross at Saraghs.
There are direct buses from Tehran to Turkey. You can even go to Ankara or Istanbul. For some reason it is easier to get a ticket to Istanbul: 27 dollars, 36 hours. A Turkish visa is issued at the border to many nationalities — 10 dollars, valid for one month, or 20 dollars, valid for two months. Or you can get it in Tehran in two days. There are two border crossings with Turkey, and the Istanbul bus goes through the northern one, near Ararat.
next: Pakistan
more: Other things
this page: http://www.zharov.com/afghan/iran.html
copyright: © Sergei Zharov, text, photos, maps, design, code, 2004–2022
feedback: sergei@zharov.com