Myanmar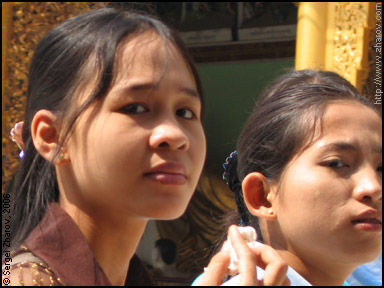 — Do you ever have any good sex dreams?
— My fish dream is a sex dream.
— No, I mean real sex dreams — the kind where you grab some naked bitch by the neck and pinch her and punch her in the face until she's all bloody and then throw yourself down to ravish her and burst into tears because you love her and hate her so much you don't know what else to do. That's the kind of sex dreams I like to talk about. Don't you ever have sex dreams like that?
Yossarian reflected a moment with a wise look.
— That's a fish dream, — he decided.
Girls in Yangon, Shwedagon pagoda.


























next: Sunprotected boy
more: Other things
this page: http://www.zharov.com/photos/myanmar04.html
copyright: © Sergei Zharov, text, photos, maps, design, code, 2006–2022
feedback: sergei@zharov.com